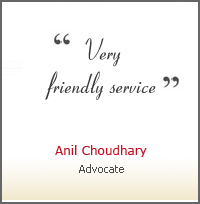 The Company is involved in Engineering Designs of RCC, PT, Steel and Masonry Structures with International Standards.  The company is dedicated and reputed to produce Structures, which are most cost effective and safe at the same time.  We designing large span structures, bridges, multi-storey buildings, industrial complexes, multi-storey parkings, auditoriums etc.  We using latest technologies like Adapt, Staad.Pro v8i, our own developed softwares etc. for designing.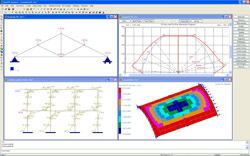 Since its inception the Company has grown upto a level of National Standards, and have gained experience in designing of a wide variety of complex Building Structures.
1) Multi-Storey Buildings


Earthquake Resistant (Vaibhav Multiplex)
Commercial Complexes (Anukampa Tower, Golcha Trade Centre)
Industrial Complexes (Autolite, RCCL, Rajasthan Synthetics, Agri Biotech)
Auditorium at Sirsa School, Haryana
Residential Complexes (ABR Housing, Raahat Apartments)
Schools & College Campus (The Sirsa School, St. Xavier, Janakidevi)
Hospitals (Santokbha Durlabhji Hospital)

2) Industrial Complexes Including Ancillary Buildings


Transportation Complexes (Jaipur Golden)
Furnace Manufacturing
Industries (Electrotherm)
Synthetic Yarn Industries (Rajasthan Synthetics)
Engineering Industries (KEC, SWIL)
Electronic Industries (Punsumi India Ltd etc)
Automobile Spare parts (Autolite,Bulbs, Head Lamps)
Automobile Industry (Sport Car, Body Fabrication)
Chemical Industries (Extractors)
Marble/Granite Gangsaw Plants (RK Marbles)
Steel Industries (KEC, NBC, Ultratech, SAA Africa)
Gold Industry (Royal)

3) Specialised Industrial Works


Large Span Trusses & Gantry (45m Span)
Large Span RCC structures (25m)
Mighty Equipment Foundations including Vibratory Foundations
Cable Tunnels & Trenches
Electric Sub Stations and Control Rooms
Storage Godowns
Water Tanks

4) Hotels

Palace Hotels (Ram Bagh Palace)
5 Star Hotels (Hotel Vanya Vilas)

5) Pavilions

Ram Bagh Polo Club
Sports Academy Lukhnow

6) Auditoriums, Parkings & Club Buildings

Sports Academy Lukhnow
Police Auditroium, RPA
Double Basement Parkings

7) Residential Bungalows
8) Over Head and Large Under ground Tanks
9) Townships and Related Structures

Type Bungalows
Roads, Drains and Bridges
Sewerage treatment plant
Shopping Complex etc.,

10) Odd Engineering Jobs

Basement under existing Multi-storey Building
Knocking down load bearing walls to reshape buildings
Providing and changing foundations of existing walls
Rehabilitation of Fallen Structures

11) Currency Chests
12) Sculptures in RCC
13) Swimming Pools
14) Temples
15) International Jobs

Mindata Australia Limited
Steel Makers (Africa)
Pianofici (Switzerland)
A/A at Indira Gandhi Centre for Indian Culture at Phoenix, Mauritius
Kar Bhawan Jaipur

Built up Area: 1,20,000 Sq Ft

Rajasthan Housing Board Built up Area: 5,00,000 Sq Ft
Status: In Progress

Multi Storey Parking at SDM Hospital

SDM Hospital, Jaipur

"

Jaipur National University
Jaipur

100 Bed Mansarovar Hospital

Built up Area: 2,10,000 Sq Ft

Janki Devi Public School, Jaipur

Built up Area: 2,00,000 Sq Ft

---
Structural Designing
Structural designing forms the basic core of civil engineering and NMRD has already received the world's most prestigious award for it – The Guinness Book of World records. With the dynamic leadership of Mr. Deepak Sogani (IIT Kanpur), NMRD is crossing new boundaries year on year. The company having a turnover of 100 crores is into the construction of bridges, malls, buildings, post tensioning, multi-stories buildings, residential apartments, industrial and institutional buildings etc. The company has experts who use latest technology and designing gears like Adapt, Stad Pro, Autocad including exclusive softwares made only for NMRD to analyse and design a building. It takes a lot of training, experience and team efforts to get a building structurally correct so that it can support or resist loads. And NBRD team just offers that.


Structural Design Engineers in India
A strong and dedicated team of engineers can only bring magic into buildings. As a field of civil engineering, structural engineering has gained a lot of mileage these days. This is because structural engineering deploy both analysis and design of structures so that building structures can resist or support extreme loads. Structural design engineers in India who work for NMRD are specially trained to analyze and design load-effective buildings. Every engineer of NMRD are qualified, experienced and trained to bring out works of precise engineering. As a structural consultants and builders, NMRD has till date successfully completed many residential, institutional and industrial projects and many projects are now getting ready. The engineers and other departments such as accounts, planning, purchase, quality control etc work in tandem to make every building wonderful.


Structural Drafting and Design Services
As structural consultants and builders NMRD has already made a reputation for itself. NMRD offers various construction related services to clients. Apart from delivering fully completed projects, it also offers structural drafting and design services. A construction cannot progress without planning. Drafting and designing is the first step to any construction, thus the most important phase. If anything goes wrong here, everything else will fall apart in the later phases. NMRD provides its services for this first step. The well qualified and equipped engineers of NMRD drafts and designs structures for different clients only after extensive research and analysis. The service is offered for any kind of building structure such as multi-storey buildings, malls, colleges, industrial areas, institutional buildings, hospitals etc. This service is also offered for odd engineering jobs.


| | | |
| --- | --- | --- |
| Our Clients | | |